You are invited to attend:
Write Your Book in 30 Days Challenge Launch Party
Monday, July 2, 2012 from 7:00 PM - 8:00 PM
Write Your Book in 30 Days Challenge
Launch Party
Date: Monday, July 2nd
Time: 7pm EST
Location: The comfort of your home
Hosted by: Andrew Morrison, President of Small Business Camp & Joy Farrington, Preisdent of Lit Diva, Inc.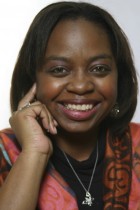 During the call we'll discuss:
What is the Write Your Book in 30 Days Challenge

Who should participate

What is a Book Buddy and Why do you need one

How to get started

Creating a Writing Schedule

How to Avoid Distractions

The Write Your Book in 30 Days challenge was created to encourage and teach those interested in becoming an author how to write a quality non-fiction book in a short period of time. The program is geared towards those who would like to use their book to build a platform, gain leads, obtain new clients, and attract media attention. More than one thousand people have signed up to participant in the challenge and a book based on the successful system, is scheduled to be release August, 2012. The program was created by Andrew Morrison, president of Small Business Camp and facilaited by Joy Farrington, president of Lit Diva, Inc.
During the challenge, participants are encouraged to write a non-fiction book with a 35,000 word count geared towards:

Building their brand
Gain New Customers
Build Trust with Potential Customers
Attract Media Attention
Build an Author Platform
Becoming known as an Expert in their Industry
Creating a Stream of Passive Income
So right now you may be asking yourself, "How does the Write Your Book in 30 Days Challenge work and how can I participate?"
Well we're so glad you asked.
It's pretty simple really. And no, you don't have to hole yourself up in a nook underneath your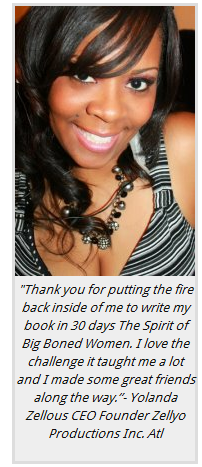 stairway i.e. Harry Potter with a month supply of crackers, sardines, water and a door mouse name Pip to keep you company.
But you do have to commit yourself to writing every day. And when we say every day, we mean EVERY DAY! During the challenge, you will immerse yourself in writing, writing, and yeah you guess it, more writing.
So with that being said, let's break down how the challenge works.
Write Your Book in 30 Days Rules and Guidelines:
Become a participant by registering to join the launch call this Monday, July 2nd at 7pm EST
Commit at least 30-60 mins a day to writing (preferably 2 hours or more if you can fit it in your schedule)
Gather your previous work (your intellectual property) to help you outline the topics in your book
Don't worry about grammar, sentence structure, spelling, or formatting. That comes later. For now all you need to do is write
Find a Book Buddy (Accountabilty Partner) to help keep you on track during the process. You can post a request for a Book Buddy on our

Facebook wall
Share your progress by posting daily in our Facebook Group and joining the Twitter Conversation by using the #bookin30days hashtag
Each day, we'll tweet the daily word count goal for the day along with tips and tricks on writing and eventually self-publishing your book. Follow us on twitter @writeurbookin30.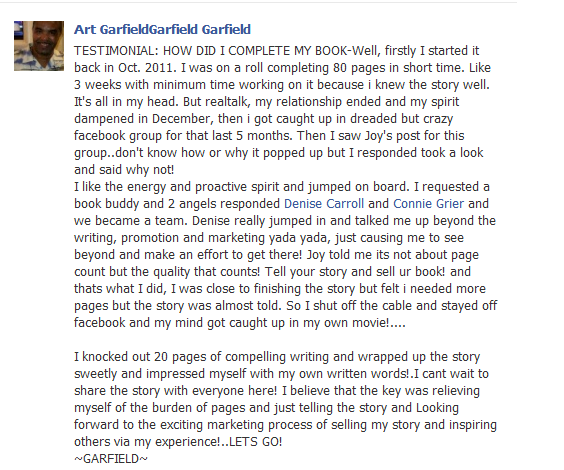 Ok, so at some point (usually by day 17 when your energy is running on empty, your tired, grumpy, unsociable, and your family has forsaken you) you'll may dropped down to your knees, look up to the heavens, raise your fist in the air, and in a rather dramatic movie-like fashion exclaim "WHHHYYYYYYYY!!!!"
Trust us when we tell you that committing yourself to completing your book in 30 days will be hard work, requires dedication, and you will have moments when you'll check your sanity; but it will be worth it.
As cliché it this may sound; writing a book is a bit like giving birth. You're giving birth to your ideas by putting your thoughts, expertise, and insights into a tangible form for others to read. And once you complete your book, have it publish, and hold that first printed copy in your hands you'll smile to yourself and say "Yeah Andrew and Joy was right, it was worth it."
During the challenge, participants are encouraged to write a book that will help grow their business. Participating in the challenge is free, but to gain professional support during the 4 week challenge, we highly recommend you invest in a VIP Access Pass.
Free Access Includes:
Access to our Write Your Book in 30 Days Facebook Group

Posting a request in our Facebook Group for a Book Buddy, so you and your Writing Partner can connect and support each other on a regular basis

Posting their progress via twitter by using the hashtag #bookin30days and in our Facebok group

Updates on upcoming virtual and local (Miami and NYC) Write Your Book in 30 Days events
VIP ACCEES PASS PACKAGE:
What do I get?

VIP




Bonus: Access to the Write Your Book in 30 Days eCourse

($97 value)

Week 1:

A book is the NEW Business

· Why every serious entrepreneur should write a book

· Finding your Writing Technique

· Creating a Writing Schedule

· Creating an Outline

Week 2:

No, your book is not for everyone

• Research your target audience

• Primary vs. Secondary Data

• Peer Reviews

• Testimonials and Blurbs

Week 3:

Copyrights Dos and Don't

• How to successfully incorporate PLR Reports and Ezine Article into your book

• How to copyright your work

• Public Domain Works

• Royalty Free Images

Week 4:

A Book Team can Make or Break your Book Career

• Why you need an Editor

• The role of an Interior Book Designer

• What a great book cover can do for you

• How to outsource your work

An Initial Phone Consultation to help you flush out your book idea

Exclusive Audio Podcasts featuring Writing Milestones for the week as well as tips on Self Publishing and Marketing from expert guest speakers




Weekly Virtual Group Meet-ups with Joy Farrington, who will analysis your book topic and outline, suggest how your book can appeal to your target audience, and answer any questions you may have about the book process. Can't make the calls? No problem. Each call will be recorded and available within 24 hours




Bonus: A Digital Copy of Write Your Book Already! Audio Course

A great source of information you can listen to while driving, working on your book, or anytime you need an extra motivational "push"

About the Write That Book Already! Audio Course

You want to write a book, but between your job, kids, and Facebook, you just can't seem to find the time or get yourself organized enough to write. Therefore, you put your dream of becoming an author off until the time is right. But the time is never right is it? That's because you have to make the time and you have to get yourself situated so you can commit to writing your book.

During the MP3 Recording, I discussed:

Create a Writing Schedule

Organize Your Thoughts

Find a Book Idea

Get Your Family and Friends on your Team

Find a Book Buddy

Finally Get your Butt in Gear

Transcripts to the recording
Chapter by Chapter Worksheet to help you outline your book

Cost:

$97



Meet Your Instructors:
Andrew Morrison is the President of Small Business Camp. The company provides high-impact marketing strategies for entrepreneurs, executives and non-profit leaders. Andrew has trained thousands of entrepreneurs from Hawaii to Nigeria and appeared on Oprah. Andrew is a best-selling author whose works includes 21 Questions That Can Build Your Business in 90 Days, A Dish Called Inspiration and the up-coming, coauthored book, Write Your Book in 30 Days . For more information about Small Business Camp and Andrew Morrison, please visit www.smallbusinesscamp.com.
Joy Farrington is the president of Lit Diva, Inc. As a Virtual Author Assistant (VAA), Ms. Farrington enjoys assisting coaches, speakers, and non-fiction authors with the writing, publishing, and marketing of their books. Her clientele includes bestselling authors and nationally renowned speakers. Her clients have been featured on Oprah, CNN, CNBC, FOX, BET, and the Huffington Post. Joy is also an Amazon best-selling author and has written several books including the co-authored Write Your Book in 30 Days, Publishing Your Book to Kindle in Minutes and A Literary Diva's Guide to Hosting a Fab Book Club Meeting. For more information, visit www.litdiva.com.