Free Friday's have infected Marketing for Writers and I thought this was perfect to highlight over here.
Please take advantage of this and download this book right away!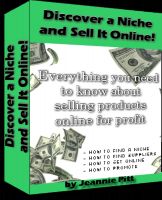 Discover a Niche and Sell It Online
Ebook By
Jeannie Pitt
Rating: Not yet rated.
Published: Jun. 19, 2011
Category:
Non-Fiction » Computers and Internet » Internet
Category:
Non-Fiction » Business & Economics » Small business and entrepreneurship
Words: 8796 (approximate)
Language:
English
[
add to library
]
Ebook Short Description
Everything you need to know about selling products online for profit. A complete overview of how to discover a profitable niche, how to find suppliers, how to get your products online and how to successfully promote your business.
You know there are ways to earn a living online, working from your living room. You've heard the success stories and your gut says 'I can do this!'

But after some research, you've found that there's a huge learning curve and you might be left wondering if you have what it takes to make it.

The answer is YES! There are so many ways to earn a living online. You may never go from broke to millions overnight, but there are hundreds of thousands of people who are earning a comfortable monthly income by selling products and information online. You can easily be one of them. It's not difficult, and these days there are plenty of tools to help you along. The best part… most of what you need is free!

Many of the tasks necessary for online selling can be automated so that you can spend more time doing what you love. Depending on the direction you decide to take, you could set up your online store and sit back as the orders begin to come in. Others will ship your products or yo... (Read more)
Tags
selling products
,
online business
,
niche business
,
website sales
,
website business
,
start a website
This book is free.
Download the book that will help you understand your journey on the Internet.
ONLY $5!
IS YOUR LITERARY PROJECT READY FOR THE EBOOK REVOLUTION?