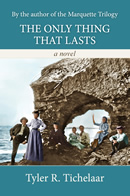 The Only Thing That Lasts
Book Title and ISBN:
The Only Thing That Lasts

9780979179044




Author Name:
Tyler R. Tichelaar


The Only Thing That Lasts
is written as the autobiography of Robert O'Neill, the famous novelist first introduced in The Marquette Trilogy. As a young boy during World War I, Robert is forced to leave his South Carolina home to live in Marquette with his grandmother and aunt. He finds there a cold climate, but many warmhearted friends as he matures into adulthood and becomes a famous writer. The Only Thing That Lasts is a joyful, lighthearted, yet meaningful story of home and hearth.
Genre of book:
Historical Fiction


How do you come up with story ideas and characters?

Mostly, I get ideas from the local area of Marquette and its history. I like to write novels where minor characters in one book become major characters in another so all five of my novels have connections. I create a minor character and then later realize he or she has his own story to tell beyond may be just the one scene where he appeared in a previous novel. In my first published novels, The Marquette Trilogy, there were about 300 characters, so I had plenty to expand on in later books.
When and how do you write?
I mostly write in the evening. I do a lot of writing in my head when I'm walking, then come home and write it down—I literally do hand write a good percentage of my books, and then retype them. I write scenes as they come to me and try to keep them in some order, rather than writing from the start to the end of the book.
What other authors inspire you?
In writing The Only Thing That Lasts, I wanted to write an old-fashioned novel in the style of Louisa May Alcott or L. Frank Baum's Aunt Jane's Nieces, or even Marquette's own Carroll Watson Rankin, whose Dandelion Cottage (1904) first made Marquette the setting for a novel. Margaret Mitchell's Gone With the Wind was also an influence for the Old South connections in the novel.


How did you find your publisher?
I spent a long time looking for a traditional publisher, but then realizing my primary audience was in Upper Michigan, I formed my own publishing company, Marquette Fiction. I didn't see why some publisher in New York should decide whether my audience in the U.P. should read my books, and my novels have sold very well locally.


How long does it take you to write a novel?
I've never written one in less than nine months and usually they take years as the characters are developed in my mind. The Only Thing That Lasts was the first book I ever wrote. I started it in 1987 and finished the rough draft a couple of years later. Then I rewrote it in 2005 and polished it again to be published in 2009.


How do you overcome writer's block?
I mostly find sometimes I'm trying too hard to get the story to come together. That's when I'll lay down and close my eyes—sometimes I end up napping, but other times, like with meditating, things come clear. I'll hear a character's voice (I like to write in first person) and then he or she will just start talking and everything will come together.


What's your next project?
I just finished writing my first non-fiction book to be titled My Marquette. It will be a history/tour book of Marquette, along with my personal memories and connections to the area and highlighting how the different local places have appeared in my novels. It will be my first book with photographs, so that's a new learning curve for me.


How long have you been writing and how did you get started?
I started writing The Only Thing That Lasts in high school—it was the first novel I completed. I made a few false starts before that. I started writing short stories beginning in third grade. I got started because I loved to read and then a friend told me her aunt wrote mystery novels. It didn't occur to me until that day—I was about nine years old—that it was a job to write books and I knew that was the job I wanted.
How does your background influence your books?

I'm a seventh generation resident of Marquette, Michigan. My grandpa used to tell me about his childhood in Marquette back in the 1910s and also about his parents and grandparents. The history of the area and its stunning beauty, heavy snowfalls, and the power of Lake Superior all inspired me to write about it. Marquette played a significant role in the history of this country as a major port for the iron ore to be shipped. That iron ore changed America because it was turned into steel that won wars and built our country. I wanted to tell a story of the American Dream played out in Upper Michigan.
Author's Contact information:
Also on Facebook and myspace.com/tylertichelaar
Complete list of my books:
Iron Pioneers, The Marquette Trilogy: Book One

The Queen City, The Marquette Trilogy: Book Two

Superior Heritage, The Marquette Trilogy: Book Three

Narrow Lives

The Only Thing That Lasts

Authors Access: 30 Success Secrets for Authors and Publishers (co-author/editor with Victor Volkman and Irene Watson)
Would You Like To Be In The Author's Spotlight? See Our Other Programs To Help You Highlight Your Product or Service
SEE EVENTS BY ESSENCE OF MOTOWN LITERARY NETWORK | Click Here!
Visit our website for featured authors!
Sylvia Hubbard
Author, Blogger and Founder of Motown Writers Network & The African American Electronic Literary Network

Author of Romance & Suspense and Internet Marketing for Writers & Business

NOW AVAILABLE: Secrets, Lies and Family Ties order your copy now
Coming Soon: Tanner's Devil www.redrosepublishing.com