click thru for more





Do you have a DREAM? Rev. Dr. Martin Luther King did.

This Monday is Dr. Martin Luther King day and on Tuesday you can get going on YOUR DREAM!

For over 10 years, I've been honored to be work with dynamic and motivated authopreneurs from all over the world! They are launching powerful publicity & social media strategies for high-impact free publicity & major visibility. It's all about BUZZ.

Think about Ted Williams, the "Golden Voice" discovered via Youtube. That's the power of the internet. Are you Googlicious?

Start the new year off right. Register for the PR Boot Camp Online Telecourse; we start on Tuesday, Jan. 18!

This year is all about "Branding Like a Super Star" online using social media marketing and online publicity - this is how you can get the media and your audience to remember you.

Just imagine having 3 - 6 interviews under your belt right after the PR boot camp! That's what I teach in the PR Boot Camp sessions. I help you to shine online and

get GOOGLE JUICE!




If you want to get in on this powerful, PR Boot Camp (with special emphasis on social media marketing) register now and get a bonus PR book on how to market your book online. CLICK LINK >

Right now, there are 4 spots open, but spots fill up fast. If you're serious, don't wait. Get your spot reserved now - while there's space! Click here: Boot Camp



P.S. If you miss the "live" PR Boot Camps or have serious "cash crunch" issues, you can get the next best thing > The Home Study Kit > It's like getting My BRAINS in a BOX! LOL!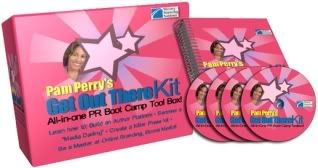 Digital Kit
Immediate Download, click here