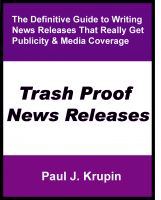 Trash Proof News Releases
Ebook By
Paul Krupin
Description
Trash Proof News Releases is a tool designed with one specific goal – to get you publicity in your target media that achieves a return on investment that rivals and even exceeds your best marketing. It offers media everything they need to run with the story using you and the resources you've arrayed and meet their needs in today's fast paced environment and ever changing technologies.
Review by:
Dana Lynn Smith
on Nov. 22, 2009 :
Paul Krupin knows what it takes to appeal to the media and deliver value to readers, and he shares his wealth of experience in Trash Proof News Releases.
In addition to walking readers through the crucial steps in planning a publicity campaign and writing an effective news release, the book is packed with real-life examples. I especially like the tips and examples for specific types of releases, such as events, book announcements, and hard news.
Trash Proof goes a step further with an appendix featuring frank quotes from journalists who share their thoughts about working with authors.
This updated version of Krupin's earlier book also includes advice on taking advantage of new media opportunities."
—Dana Lynn Smith, author of The Savvy Book Marketer's Guide to Successful Social Marketing, www.SavvyBookMarketer.com
Review by:
Vanilla Heart Publishing
on Nov. 14, 2009 : (no rating)
Fabulous all encompassing guide to writing press releases that make sense and garner more media attention! Highly recommend, in fact, we've suggested this book to all our Vanilla Heart Publishing authors, encouraging them to take a proactive approach to their local media. Thanks, Paul!
Kimberlee Williams
Vanilla Heart Publishing
DOWNLOAD YOUR COPY AT: http://www.smashwords.com/books/view/5921
Download the book that will help you understand your journey on the Internet.
ONLY $5!

IS YOUR LITERARY PROJECT READY FOR THE EBOOK REVOLUTION?