| | |
| --- | --- |
| | |
How I Quadrupled My Traffic In Less Than 3 Months
Posted: 28 Feb 2009 05:36 AM PST
The most important metric to assess the popularity of any blog is the amount of traffic it is receiving. If you are unknown in blogosphere starting from scratch, building decent traffic on your blog can take some time. Here's how I managed to increase the traffic in recent months by applying some simple yet powerful techniques.


At present, I'm getting around 12,000 page views/month. I know it's not huge traffic when compared to some popular blogs in similar niche. However, the increase from 2,000 PV's/months to 12,000 PV's/month in about 2.5 months is certainly a good development for a relatively new blog.



If we closely look at the traffic graph shown above, we can witness a steady growth in traffic after some of my posts received good attention by social media users. You can clearly observe that before those big spikes, traffic was pretty much stagnant. The key factor was to identify this phenomenon and capitalizing on it. Following these big spikes, I introduced some major changes in my blogging routine to pull and convert more traffic.

Here are those changes that I implemented in last 2.5/3 months.


Posted Regularly

Readers and search engines both love regular feed of content. Prior to November 2008, my posting frequency was quite irregular with no definite pattern. Nothing can be better than daily posting, but if you cannot make it everyday, try to post at least 3 to 4 times a week. I have created a strict posting schedule and now I publish 3 articles per week. Try to publish at least one long in-depth post per week. Regular posting has not only given crawlers a reason to index the content quickly but it has also inflated the archives rapidly resulting in more traffic from organic sources.


Written For Audience

Daily posting alone cannot help build traffic on your blog. To make it clearer, let me ask you some simple questions. Why you visit some popular blogs? Do you like the design of the footer? Or you love to watch animated banner ads on that blog? I'm sure almost all of you go there only for one reason. To get answers of your questions and to get vital information related to your domain. So the key is to identify the needs of your audience and serve what they want. This is applicable to almost every business process - "Anticipating Customer Demands And Delivering The Goods Accordingly".

To implement this on your blog you need to do some research. Here's how I did it.

Google Analytics - is one of the best sources to identify what kind of content is receiving most traffic. Use the 'Content -> Top Content' report to identify the posts receiving most attention of the visitors. Generate 'Visitors -> Keywords' report to identity the most popular keywords that are sending traffic to your blog. After analyzing these reports, here's what I found out.

Following type of posts was receiving most traffic.



1. Problem-Solver Articles
2. How-To Tutorials
3. Lists of Resources
4. In-Depth Post About A Service/Feature



Asking fellow bloggers - in similar niche helped me in getting a clear picture about the type of content that receives most attention on their blogs. The results were almost the same as I got through analysis of Google Analytics reports.

Talking with some of my readers - gave some useful insight about their expectations and the type of content they are expecting from MintBlogger.


Updated Old Content

During this period, I updated and refreshed about 54 posts from archives. This whole exercise helped in making posts more readable, stickier and more useful for the readers. While updating these old posts I stressed on 3 important things.

Contextual Cross-Linking - I identified the possibility of cross-linking the posts with relevant anchor texts embedded right in the middle of the content.

Added Relevant Illustrations - This helped me in making the posts more attractive and sticky.

Modified/Added More Content - Some of the posts required updation of text and some of them demanded addition of extra paragraphs.

Here's a comprehensive guide to update and refresh old content on your blog.


Updated Archives Page

After analyzing the Google Analytics reports, I saw an alarming trend. Lot of visitors were heading to archives page and exiting immediately without any further navigation. The poor design of archives page was the culprit.

I completely updated the archives page by including yearly/monthly archives, highlighted categories section, list of posts in reverse chronological order and a search box. This drastically reduced the bounce rate. Recently, I've written about creating a high performing archives page.


Revamped Sidebar

It is very vital to know which parts of your web page are receiving the most attention and which parts are completely ignored by the visitors. There are some hot click-through zones and some non-performing zones. If you are able to identify them and manage to improve the latter ones, traffic is automatically going to increase.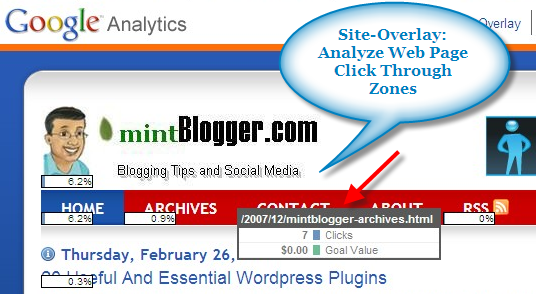 I used Google Analytics Site Overlay feature to identify non-performing click-through zones. You can access this feature through 'Content -> Site Overlay' from GA dashboard. After analyzing site overlay report it was quite clear that my sidebar was not receiving the required attention.

Here is the composition of my old sidebar.



1. Categories
2. Four - 125x125 Ad Block
3. Recent Posts
4. One 250x250 Adsense Image Ad Block
5. Subscription Box
6. Social Media Profiles
7. Entrecard



In old sidebar, there was more stress on stuffing ads rather than providing links to some useful stuff for the visitor. After revamping the sidebar now it has the following elements and performs very well.



1. Subscription Box
2. Categories
3. Popular Posts
4. Best Lists And Resources
5. Recent Posts
6. Social Media Profiles



I completely removed all the ads from the sidebar, shifted subscription box on top and highlighted the best content on MintBlogger in different sections. In coming months, I'll divide these sections into Popular Posts, Best How-To's, Best Lists & Resources and Free Themes by MintBlogger, giving more options to the reader to scan and navigate the archives.


Commented On Tons of Blogs

You must have read several times about commenting on other blogs to get more exposure and traffic, but how many of us do it consistently over time. I have set a goal to daily comment on at least 10 different blogs similar to my niche.

Don't limit your comments on some selective blogs but evenly spread your comments across the blogosphere on as many new blogs as you can. Regular commenting will create new connections generating more traffic and exposure for your blog.


Did Aggressive Social Media Marketing

After getting the taste of success on various social media sites back in November 2008 (see traffic chart above), I became quite active on Digg, StumbleUpon and Twitter. The result was some additional traffic from social media sites.


Changed And Tweaked Blog Theme

In the beginning, I was using Minyx template for MintBlogger. I was not satisfied with the theme and decided to change it with Adspress. This new theme has much cleaner navigation, fast load time and has a non-standard look. I edited the CSS to give it a unique look to provide a pleasant browsing experience to the visitors. I don't know how much it has contributed to the cause, but some of my peers agreed that after these theme tweaks MintBlogger doesn't appears to be hosted on blogger platform and looks reasonably good.


Networked With Peers

Nobody can grow in vacuum. Socialize, connect and interact to see your blog grow faster than your expectations. I used social media, emails, IM and discussion forums to connect with fellow bloggers and readers. This created a chain of people who knows about me and definitely some of them talk about me with their contacts spreading the word about MintBlogger.


In The End: Change of Traffic Pattern

I would like to finish this post by comparing 2 traffic pie charts generated through Google Analytics. You are going to see a classic example of how traffic pattern changes drastically when you change your approach and blogging routine.


Traffic Pattern Before November, 2008

Traffic Pattern From 1st Nov, 2008 To 20th Feb, 2009



From both pie charts, you can clearly deduce how percentage of traffic from organic sources and social media sites has completely reversed in last 3 months. Before November 2008 just 20% of traffic was coming from search engines, now it has swelled to 57% (indication of inflating archive with posts getting good rankings in SERP's). In the long run, this organic traffic is going to matter the most.

So these were some changes, tweaks and various methods implemented by me to pull more traffic towards MintBlogger.


Over To You

I would like to know various methods you may have implemented to build traffic on your blog?


You are subscribed to email updates from Blogging Tips and Social Media | Mint Blogger
To stop receiving these emails, you may unsubscribe now.
Email delivery powered by Google
Inbox too full? Subscribe to the feed version of Blogging Tips and Social Media | Mint Blogger in a feed reader.
If you prefer to unsubscribe via postal mail, write to: Blogging Tips and Social Media | Mint Blogger, c/o Google, 20 W Kinzie, Chicago IL USA 60610